An Enigma Bike Ride to discover Bordeaux while having fun
In family, between friends, in couple, between students, for an EVJF or EVG...
Equipped with your logbookGo on a sporty treasure hunt in Bordeaux. A puzzle game in complete freedom and autonomy (without guide) to do when you want and with whom you want (in family, among friends, between studentsfor a EVG or EVJF...)
Rate 19,90€ for a treasure hunt (whatever the number of participants)
For whom : with family or friends
When : when you want, you choose the day and time of the trail game
Duration : 1/2 day approximately
Number of participants Ideally, a maximum of 6 participants (but you are not limited)
Place of departure : port of Vieux Lormont
Place of arrival : Bacalan district
Your booklet (logbook) will guide you throughout the walk. We advise you to print it.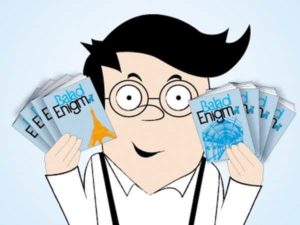 Points of interest of the Enigma Walk in Bordeaux
Points of interest The Pont d'Aquitaine, the Château du Prince Noir, the Musée National de l'Assurance Maladie, the Hermitage Park, the Cité du Vin, the Bassins à flot...
(Re)Discover the charm of the two banks of Bordeaux during this bicycle treasure hunt, punctuated with riddles and challenges of all kinds. The ideal activity for an original and playful half-day with your partner, friends or family.
You start from the port of Vieux Lormont. This walk will lead you to the heights of the right bank of the Garonne. You will discover several parks and castles. Your escapade, more or less sportive, will then go along the banks of the river, an invitation to cross to the other bank by the Jacques Chaban-Delmas bridge to discover the reborn district of Bacalan. Cross the ages thanks to this treasure hunt that will reveal as many stories about the Bordeaux of yesterday as about the contemporary metropolis.
Your logbook
With four documents composed ofa logbook that explains where to go and how to get there with lots ofriddles to solveof a map of the area to find their way around, from a toolbox full of surprises and a booklet with solutions (but not to be read 😉 ), you'll wander around at your own pace and progress through the course step by step, as soon as each riddle is solved! If you get stuck, don't panic, the booklet with the solutions is there for that.
Our opinion on this original walk in Bordeaux
Flexibility : you make your walk when you want and at your own pace!
Playful To advance on the course, you will have to solve riddles on various themes (cinema, music, literature...) which makes the walk fun and motivating
Cultural For the more curious, the "Learn More" section will give you fascinating information on the history, geography, anecdotes, etc.
Not expensive : an original activity for less than 20€ for the whole group
The other Enigma Walks in the provinces and in Paris
–20% with the code FAMILIN