- INTERACTIVE SHOW -
From December 3, 2022 to May 8, 2023
Cap Sciences Bordeaux
Age: from 10 years old
Date December 3, 2022 to May 8, 2023
Duration 45mn to 1h
Free for children under 5 years old
Closed Monday (open Monday during school vacations)
Location: Cap Sciences Bordeaux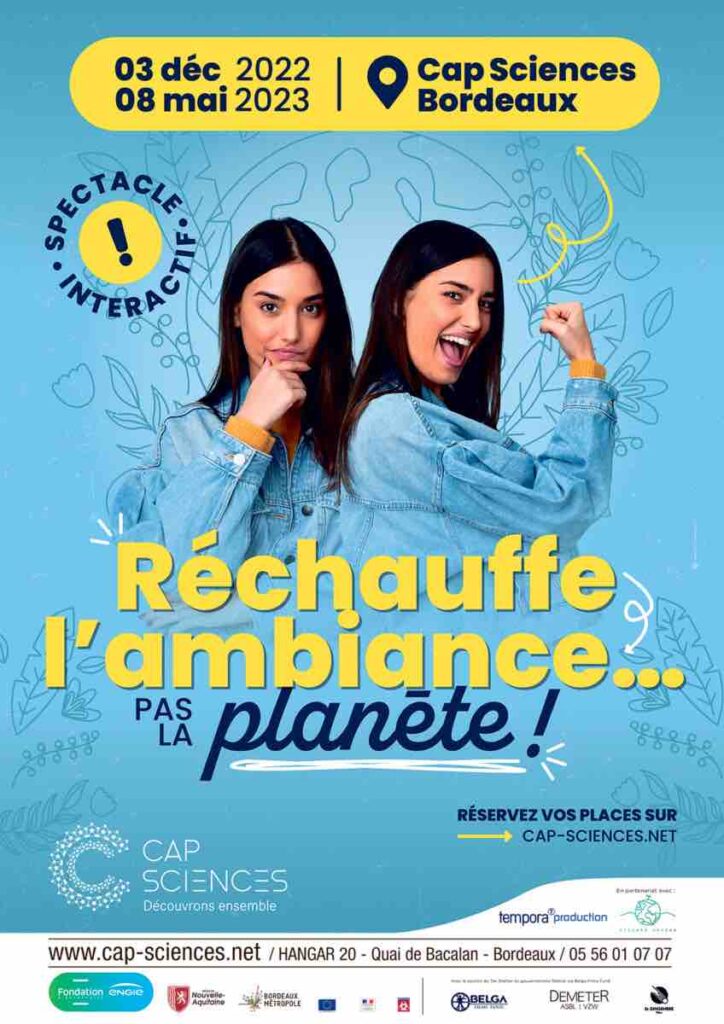 A show full of humor aimed at young audiences (but not only) to raise awareness of global warming with proposed solutions!
The Pitch : Faced with the climate emergency, Thomas thinks that everything is ruined and takes it easy in the Caribbean, Louna has taken the lead and changed her lifestyle. As for Camille, she questions her role, her impact and that of others and wonders what to do... And you, where do you stand?
"Warming the atmosphere...not the planet"goes further than a simple show. It is a collective experience between cinema, theater and participative workshop.
The show is based on testimonies of personalities like Lucie Pinson François Gemenne, Cyril Dion ...
A powerful and engaging show to move from awareness to action... Enter the debate!
Cap Sciences is located not far from the Chaban Delmas Bridge in a former warehouse
Numbers which call out to us...
- Heat waves, storms, floods, water shortages... 3.3 to 3.6 billion
people in the world are now considered "very
vulnerable "1.
In the case of a 2°C warming by 2100, up to 18% of species
terrestrial species will be at high risk of extinction1.
The 10% of the world's highest income households together represent
alone between 36% and 45% of total greenhouse gas emissions1.
If the Earth were to warm by 1.6°C by 2100, 8% of the land currently
would be unsuitable for cultivation by the end of the century1.
Between 8 and 80 million people will be hungry by 2050.1
With the current commitments, CO2 emissions are expected to increase
of 10.6% by 20302
What to do in Bordeaux with children?