In French
An unusual visit in the heart of Bordeaux
All audiences, ideal for families, from 8-9 years old, between adults
The unusual visit "When Street Art seduces the Chartrons
Points of interest of the guided tour: the Chartrons districtnorth of the historic center of Bordeaux, Notre-Dame Street, the famous M.U.R (skatepark des quais)
The guide will take you from the Garonne to the heart of the Chartrons, a popular place for Bordeaux residents and urban artists.
This district has been transformed in recent years, notably with Street Art whose colors and modernity contrast with the old wine cellars that line the quays.
You will discover the works of famous artists such as Alber, A-MO, Selor, Monsieur Poulet, CLET, MonkeyBird Crew, or Migwel, but also graffiti, stencils, tags and collages of Bordeaux artists and amateurs
This visit will also be an opportunity to hear stories about the history of the Chartrons from the 17th century, a place of trade and prosperity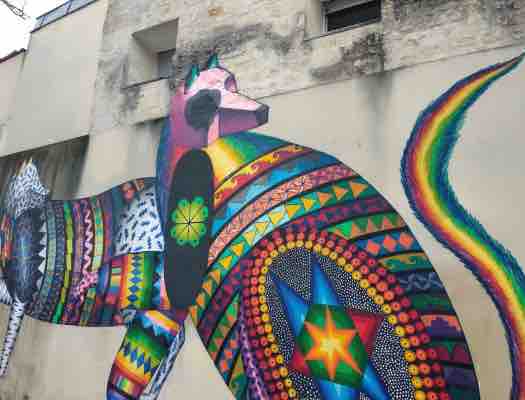 Rates and info
Age : from 8-9 years old
Free for children under 4 years old
Language : visit in French only
Number of participants 20 people max.
Meeting place streetcar stop B "Les Chartrons
Distance traveled : 1,5km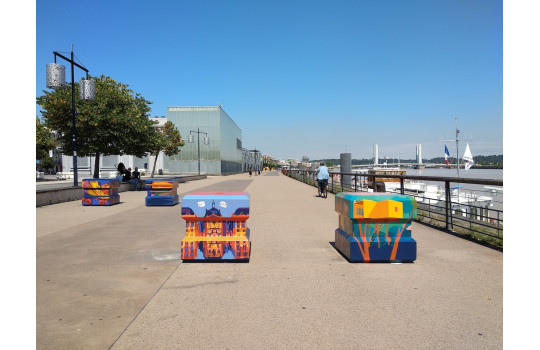 Find the list of our reviews
- visit to the Chartrons district and street art on May 7, 2023
Written by Mylène, 15-07-2023
A very interesting stroll through the Chartrons district and the discovery of Street Art. Jourdan, our guide, gave us a fascinating tour of this unknown artistic field. I loved it and didn't notice the time passing. Highly recommended
- Street Art tour of the Chartrons !
Written by Sandie, 13-06-2023
I really enjoyed the Street Art tour of Les Chartrons, with commentary by Jourdan, who was passionate about the subject and fascinating. The Chartrons district is a must-see.
- Passionnant
Written by Calvet, 26-04-2023
Great! Makes you want to do a longer tour of other parts of Bordeaux!
- Superb visit
Written by Bruner, 26-04-2023
A very interesting visit accompanied by a very pleasant guide, passionate about her subject. We made some wonderful discoveries!
- Perfect
Written by Charlotte, 11-04-2023
Discover the Chartrons district from an original angle. Jourdan is captivating. I now walk around with a different eye. Perfect for children too.
- Great discovery
Written by Julien, 15-08-2022
With our 3 children (aged 9 to 14), we followed an open-air tour of the many works of street artists in the Chartrons district of Bordeaux. Our enthusiastic guide, Jourdan, introduced us to a host of graffiti artists, as well as the history of a district we thought we knew so well. With a smile and generosity, she took us around for 2 hours, with a last 1/2 hour as a gift to make the most of it. A bit pricey, but adults and children loved it.
FAQ
What to do in Bordeaux with children and teenagers?